Kale is a nutrient-rich leafy green that thrives in container gardens, much like lettuce, spinach and other greens. It's a versatile, cold-hardy crop that isn't fussy about conditions, making it a great starter plant for beginner gardeners. Growing kale in pots is easy – and it's awesome to have fresh kale right outside your kitchen door!
Did you know kale is a type of cabbage, closely related to collard greens and Brussels sprouts? It doesn't form a head the same way cabbage does, but they share many other characteristics and growing condition preferences.
Kale originates from the Mediterranean and has been popular in European cuisine for centuries. It's a superfood favorite, often used in smoothies, salads, soups, and stir fries.
Kale is a cool weather crop that can be planted in the spring or fall. In fact, it can withstand temperatures as low as 20 degrees F! In very warm climates, kale can be grown as a winter crop. It's technically a biennial grown as an annual, so it is possible to get more than one season from one plant.
Like most leafy greens, kale prefers full sun but will tolerate partial shade. It's a relatively easy plant to grow and doesn't require a lot of maintenance, which really does make it perfect for beginner gardeners.
And best of all, it's easy to grow your own! Kale grows FAST, maturing in as little as 30 days with minimal care.
Read on for all the details about growing your own kale in pots, and try some this season!
This post may contain affiliate links. If you buy something through these links, we may earn a small commission at no cost to you.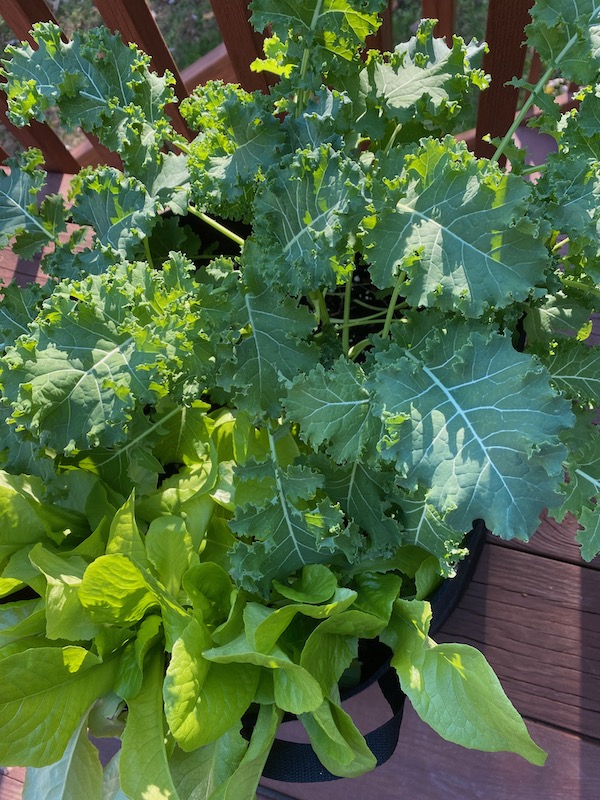 Best kale varieties for containers
There are three main varieties of kale most commonly used for culinary purposes:
How to grow kale from seed
Growing kale from seed is relatively easy. If growing in spring or summer, sow kale seeds outside about 4 weeks before your average last frost date (find yours on this frost date calculator).
For a fall planting, sow about 6 weeks before your average first frost date.
If you live in a cold climate, you can sow a bit later in spring, but don't wait too long. Kale prefers soil temperatures in the 60-75 degree range. It's worth planting early to make the most of those cool temperatures!
If you live in a very warm climate and plan to grow kale over the winter, you can plant anytime in the fall.
You can also start indoors in early spring, 6 weeks before your area's average last frost date. Transplant kale seedlings after about 4 weeks — and be sure to harden off your seedlings!
For best results, sow seeds thinly on the surface of your seed-starting mix, no more than ¼" deep.
You can use a soilless seed-starting medium like coconut coir or Miracle-Gro seed-starting mix in a seed-starting tray. That's what I use, and I've had good results with both and highly recommend these brands.
(You can also sow in potting soil directly in the container you're using for the season.)
Mist the container to keep seeds moist but not soggy. Place the pot in a warm, sunny location and keep an eye out for germination.
Kale germinates within 5-10 days and can mature as soon as 30-60 days! That's fast!
Once they germinate, thin out the seedlings so that only the strongest ones remain. Transplant into individual pots when they are 4-6″ tall.
How to grow kale in pots
Kale can grow anywhere from 24" to 48" tall and 12" to 24" wide – so it needs a good-sized pot.
Choose a container that's at least 12″ deep and has good drainage (either 1-2 drainage holes or a fabric bottom). Small pots don't have enough room for kale to grow hearty roots.
I have kale in fabric grow bags and it thrives season after season! This year I let it go dormant in fall in the fabric container, and it happily re-emerged in late winter.
Fabric grow bags are seriously my favorite container garden container (I grow just about everything in these things, from kale to peas to pumpkins).
For kale I recommend 20-gallon fabric grow bags (20″ diameter, 16″ depth) or 15-gallon fabric grow bags (20″ diameter, 12″ depth).
Kale does best in loamy, well-drained soil. So fill the container with high quality potting mix and water it well. Avoid using garden soil in containers, as the consistency isn't designed for optimal drainage in a container, and garden soil may harbor pests and fungi.
Always use the best quality potting mix you can, to be sure you're getting good moisture control and the right balance of organic matter and nutrients. My favorites are Miracle-Gro Potting Mix and Fox Farm Ocean Forest Potting Soil Mix.
Kale likes full sun during the cool season, about six hours of sunlight per day. But in warmer temps it does well in partial shade.
In fact, if you live in a hot climate, it's best to grow kale in the winter when temperatures are cooler. Temperatures above about 80 degrees F can make kale leaves tough and bitter — so you want to be mostly done with growth and starting to harvest by the summer months.
Watering instructions
Kale is a relatively drought-tolerant plant, but it does need to be watered regularly. Water your kale plants when the top 1″ to 2″ layer of soil feels dry to the touch.
Fertilizer instructions
Kale is a relatively heavy feeder and will benefit from early and regular fertilization. It needs a lot of nutrients in part because it contains a high amount of calcium, which can deplete nutrients quickly.
When seedlings grow the second set of true leaves, start adding liquid fertilizer every 2 weeks or so.
I recommend the highly-rated Fox Farm Grow Big liquid fertilizer, which contains earthworm castings and kelp. It has a well-balanced 6-4-4 NPK ratio. (This bottle will last you a long time for a container garden!)
(To learn more about NPK ratios and fertilizer in general, check out my Fertilizer 101 post!)
When should I harvest kale?
When it comes to harvesting kale, timing is important. You want to harvest the leaves when they're young and tender for the best flavor. Older leaves can be tough and bitter.
You can begin harvesting kale when the leaves are about 6 inches long, or as baby greens when young leaves reach about 4 inches.
To harvest, simply cut the leaves from the plant with a sharp knife or garden shears. You can also harvest the entire plant by cutting it at the base of the stem. Work from the outside in. If you want to harvest the entire plant, cut straight across at the base.
Avoid harvesting more than 1/3 of the plant at one time, to encourage regrowth.
Kale will continue to produce new leaves, so you can harvest it several times over the course of a few weeks. Once the weather starts to warm up, the quality of the kale will decline, so it's best to harvest as much as possible before that happens.
Kale companion plants
Kale is hearty and nutrient-dense … and pests love it as much as we do! The main pests you'll encounter are caterpillars, flea beetles, aphids, cabbage worms, and white flies.
Fragrant herbs and veggies can help deter those common pests by masking the scent of the kale and attracting beneficial insects like wasps. Consider planting a few in containers near your kale:
Companion plants to avoid
Avoid planting kale near brassica family cousins like cabbage, Brussels sprouts, and broccoli. These plants share similar pests, so planting several together is just like one big invitation to caterpillars!
How to store kale
Kale can be stored in the fridge for up to a week. Place the leaves in a plastic bag and store them in the crisper drawer.
You can also blanch and freeze it if you want to preserve it for longer. To do this, cook the kale in boiling water for a few minutes, then plunge it into ice water. Once it's cooled, drain it well and place it in a freezer bag. Frozen kale will last for several months.
More container gardening tips and ideas
Kale is a nutrient-rich leafy green that has many health benefits. Now that you have all the details for growing kale in pots, why not give it a try? Let us know how it goes in the comments!