How to attract dragonflies to your container garden
How to attract dragonflies
There's just something mystical about seeing a dragonfly dart in front of you, land briefly on a nearby plant, flick its iridescent wings and then zip away. They're so fast you almost don't have time to focus your eyes on them before they disappear. If you want more of that magic and you're wondering how to attract dragonflies to your garden, good news: with the right plants and a little water, you can!
Dragonflies have always seemed to me like messengers or spirit guides. I've had a special connection to them for many years. When a dragonfly visits you, it always seems to be just the right moment, when you need encouragement or confirmation that you're on the right track.
Dragonfly symbolism includes wisdom, adaptability, transformation and seeing the multi-faceted beauty in yourself and others.
On the practical side, they help control small insects and unwanted pests like mosquitos and flies. Adult dragonflies can eat anywhere from 30 up to hundreds of mosquitos per day!
So I love the idea of building a little dragonfly haven to attract them to your garden. You don't even need a huge pond or other large features, and controlling the mosquito population is a great benefit.
Read on for details about how to attract dragonflies to your garden and what dragonflies eat, as well as dragonfly facts and damselflies vs dragonflies — and how to spot the difference
This post may contain affiliate links. If you buy something through these links, we may earn a small commission at no cost to you.
Are dragonflies pollinators?
You might be wondering if dragonflies are pollinators like bees, wasps, beetles and moths. That would be a really good reason to attract them to your garden … but unfortunately no, they're not pollinators.
And for that reason, I want to give a heads up right from the start:
Dragonflies are carnivorous predators and eat all kinds of bugs, including mosquitos (which is awesome) and bees (not so awesome if you need pollinators in your garden).
So if your container garden includes flowering plants that require pollination, such as zucchini, cucumber or pumpkins, you might think twice about attracting a lot of dragonflies to your area.
A few dragonflies here and there won't hurt, so no need to actively try to eliminate them. I would just avoid taking steps to attract them to a small area if you need pollinators for your container garden.
Edible plants that DON'T need insect pollination include:
Herbs
Self-pollinating flowering vegetables including tomatoes and peppers
Leafy greens like arugula, lettuce and spinach
Legumes like beans and peas
Veggies that grow in the soil like carrots, onions, beets, garlic, and potatoes
Brassicas, which include broccoli, cabbage and cauliflower
Celery
So if your container garden has mostly herbs and veggies that don't require pollination, go for it! Bring on the dragonflies …
What do dragonflies eat?
Dragonflies are great for pest control! They eat all kinds of insects commonly found in the U.S.
In the underwater larval stage, dragonflies are known as nymphs. During that stage, they go through about 10-12 molting periods, growing each time, and it takes a LOT of food to keep up that much growth!
Nymphs eat mosquito larvae (thank you!), worms, water beetles, other small aquatic insects, and even tadpoles and minnows as they get bigger.
Once they develop into adults, dragonflies take to the air and eat mosquitos, flies, gnats, ants and termites, which are all common yard and garden nuisances.
One adult can eat as much as HUNDREDS of mosquitos in one day … which is about how many I seem to have in my yard at any given time between June and September. I'm in a muggy part of Zone 6 and could use the help!
They also eat bees and moths, which we need to pollinate flowering vegetables like zucchini, melons, pumpkins and cucumbers. (See above for a list of non-insect-pollinated edible plants.)
As I said above, dragonflies are not so good for your container garden if you need those pollinators.
Dragonflies are also known to eat butterflies and moths. Those usually aren't considered pests and they aren't their main prey, but just FYI in case you're also trying to draw in butterflies.
How to attract dragonflies (without a pond)
Water features
Dragonflies spend a lot of their lives in and around water.
In fact, they depend on water to complete their lifecycle: They lay their eggs in water, and nymphs develop in the water.
Dragonfly nymphs can grow and molt for as long as 5 years before fully developing wings and ascending out of the water. Many species slow down larval growth during cold seasons and grow faster during warm periods, so the length of time can vary by climate as well as species.
Once they reach maturity, they climb out on partially submerged plants and unfurl their wings.
So to give dragonflies an inviting and usable habitat, it's critical to have at least one water feature in or near your container garden.
You can totally achieve this without a pond! While a pond offers an ideal setting for dragonflies, it's not necessary, as long as you're able to include other water features in your patio, deck or balcony garden.
Your water feature should be:
Still water. Although some species of dragonflies do prefer gently moving water like lakes and streams, still water is usually preferable to a bubbling fountain.
Fresh water, not salt water.
In full sun as much as possible.
Out of the wind, so water plants won't get disturbed.
Free of fish and frogs, which are both dragonfly predators.
Free of water treatment chemicals, bug sprays and fertilizer.
Once they mature and emerge from the water, adult dragonflies can live anywhere from a few days up to 8 weeks.
That's why it's so important to have water features that sustain dragonflies through the nymph stage, sometimes for years!
To enjoy their beauty and magical vibe in your container garden, you have to give them a place to develop over a long period of time.
Water plants
As dragonfly nymphs develop, water plants literally give them a ladder out of the water, once they're mature enough to fly.
That's why it's so important to give dragonflies a range of plants to support their full lifecycle.
Submerged plants
Submerged plants may have a little bit of foliage on the surface but are mostly contained under the water.
Examples include:
American pondweed
Marshweed
Waternymph
Here's a list of varieties of submerged plants with specifics about each one.
Emergent plants
Emergent plants are rooted in soil underwater, like in the bed of a pond or river. You can also plant some of them in container water gardens.
The base of the plant is submerged, and the stems and foliage are usually above the surface — emerging from the water. Makes sense!
These plants are important for dragonflies because mature nymphs use them to climb out of the water. In ponds, common examples include cattails, bulrushes and mangrove. While some emergent plants need larger bodies of water, some small and dwarf varieties do just fine in containers.
Emergent plants you can use in containers:
Corkscrew rush — twisty thin foliage that doesn't take up a lot of space and grows up to 18 inches tall
Dwarf cannas — grow less than 3 feet tall, gorgeous multi-colored flowers
Dwarf cattail — usually found in ponds but you can grow them in containers, dwarf varieties reach as high as 30 inches
Dwarf lotus — similar to water lilies, but the flowers and foliage stand above the water on stalks
Elephant ear — those huge plants you know from flowerbeds can also thrive in water gardens
Horsetail reed — a striking vertical plant, needs a whisky barrel-size container or larger
Japanese rush — grows up to 12 inches tall
Pickerel rush — tall, vertical plants with bright blue flowers
Floating plants
Dwarf water lily — flower and foliage float on the surface of the water
Fairy moss — small, free-floating plant
Mosaic plant — small, diamond-shaped leaves form clusters on the surface, with flowers in fall
Water lettuce — floating foliage with roots extending into water below – invasive species that can work in containers but should be avoided for larger bodies of water.
Water snowflakes — related to water lilies but with smaller flowers
Vertical plants
Once dragonflies are grown and airborne, they use vertical plants to rest and eat.
Voracious hunters, dragonflies catch prey mid-air and then land to have their lunch.
Vertical plants give them a perch for picnics and to take a breather before going back out for more … voracious hunting!
Many of the emergent water plants above are vertical, with stems and foliage rising out of the water. But even taller plants will provide a dynamic landscape for dragonflies to land and perch at various heights.
Along with the aquatic vertical emergent plants, you can also plant NON-aquatic vertical plants nearby in your container garden or yard, to make the environment even more attractive to them.
Examples of non-aquatic, vertical, taller plants include:
Liatris
Hollyhocks
Salvia
Alliums
Lobelia
The dragonflies in my yard also like my lilac bush, irises and zinnias.
How to plant in a container water garden
If you want to attract dragonflies to your yard without a pond, a container water garden will do the trick.
In general, container water gardens include a large container full of water, with several smaller containers submerged inside. You can also add floating plants that don't need planters.
You're probably wondering how to plant plants in water like this … wouldn't the soil just float to the top? How do you control algae growth? How do you fertilize container water plants when they're submerged??
These were some of my first questions too. Some advice I've gathered:
Use topsoil instead of potting soil. Potting soil has too much organic matter that will float right up. Topsoil is heavier, with a higher clay content, which helps it stay put.
Add a layer of pea gravel after planting each container,
Use aquatic baskets for plants that need to be fully or partially submerged with room for their roots to wander and more nutrient exchange than you'll get with a clay pot. Here are some good options:
Use fine mesh or fabric containers like these aquatic lily plant pots, to keep soil contained. These have a drawstring to help shape them how you want to.
To adjust planter heights within the larger container, use bricks or smaller clay pots as bolsters.
Don't just sprinkle regular old plant food in the container! It's important to use aquatic plant fertilizer like this highly rated Flourish Freshwater Plant Supplement. It has a special blend of phytohormones, nutrients and minerals that water plants need.
To control algae growth, make sure to include some floating plants that keep the water shaded, such as water lilies. These help reduce water temperature and inhibit photosynthesis in algae.
Remember, dragonfly nymphs need months to several years to develop. So if you're building a container water garden to attract them, make sure you're doing it correctly so the water garden will last for years to come!
This article on how to build a container water garden gives step-by-step advice and some visuals.
I don't have my own yet, but I'm collecting ideas and so excited to plant one next spring. I'll come back and update this post with some pics when I do!
Flat rocks
Much like turtles, snakes, cats and people, dragonflies appreciate a nice warm, sunny spot to stretch out.
Flat rocks are perfect for this. Adding a few flat rocks to your space is the best way to give them a warm and inviting place to perch, rest and soak up some rays.
You don't need a huge rock garden for this. A few flat rocks from the garden store would work, or if your patio has paving stones, you're already good to go.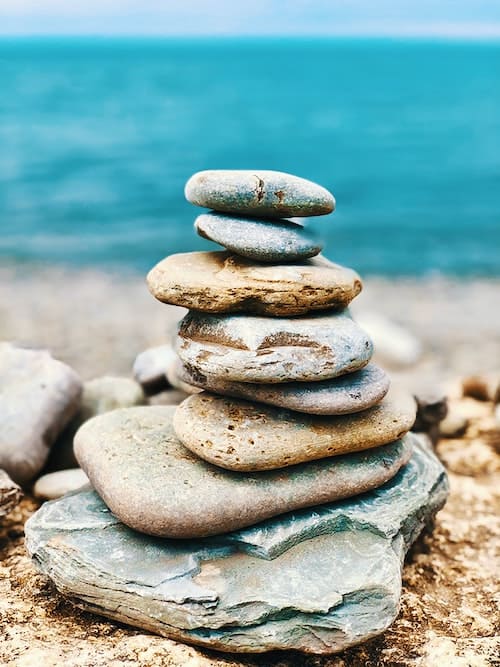 Flowers that attract dragonflies
Along with aquatic plants, nearby in-ground plants and flowers can also help attract them.
Some dragonfly favorites include:
Black-eyed susan
Borage
Coneflower
Milkweed
Yarrow
Dragonfly predators
If you want to attract dragonflies, it's also important to know what repels them.
Fish and frogs both love a dragonfly snack. They feed on dragonfly nymphs, so proximity to either one will limit your dragonfly population.
While most container gardeners probably don't have nearby ponds large enough for fish or frogs, some of you might have small water gardens with fountains or other water features.
If that's you, and you do have fish … you probably won't have as much luck with dragonflies.
You might also have a hard time attracting them if you live near a creek or other water source full of frogs, like I do.
If you don't have the best conditions for dragonflies, some patio decor might give a little bit of that magic. I love this metal dragonfly wall decoration, these gorgeous tube and bell windchimes, or these sparkly outdoor dragonfly solar string lights.
Damselfly vs dragonfly
Damselflies are in the same order as dragonflies (Ordonata). They are also carnivorous predators and have the same environmental needs such as clean water, water plants and rocks.
If you attract one, you'll probably attract the other!
While they have similarities and are often mistaken for each other, there are ways to tell the difference between dragonflies and damselflies:
Wings
Dragonflies have two sets of wings, with longer and wider hindwings. Their wings stay perpendicular to their bodies, stretched out to the sides like a biplane.
On damselflies, both sets of wings are the same size, and they hinge and fold back along their bodies when they land.
Flight
Dragonflies have sturdier bodies and a strong flight pattern. Some are even capable of migrating across oceans!
Damselflies are lighter and have a shorter, with a more fluttery flight pattern.
Eyes
Dragonflies have large eyes that take up most of their head. In fact, they can see everywhere around them — except directly behind.
Damselflies have smaller eyes, with a space between them in the front of the head.
Dragonfly symbolism
Because they've evolved over hundreds of millions of years, through all kinds of conditions, dragonflies are considered a symbol of wisdom, transformation and resilience in many cultures.
The way they grow and develop in water, then emerge and live airborne as flying creatures, has made them a symbol of adaptability and growth.
Their ability to quickly dart, pivot and change course mid-flight also symbolizes self-realization and taking control in unknown situations.
The iridescent gorgeousness of dragonfly wings brings to mind multi-layered beauty and being able to see — and love — multiple facets of yourself.
And the short-lived adulthood of a dragonfly out of water reminds us to live in the moment.
If you're looking for a little magic or a spirit guide to help you see the way, dragonflies just might help.
Fun facts about dragonflies
Dragonflies were one of the first winged insects, evolving an estimated 325 million years ago.
Today they have an average wingspan of 2 to 5 inches, but 300 million years ago their wingspan was almost 3 feet long.
Most of the 3000 dragonfly species are tropical, and the loss of wetlands around the world endangers dragonfly populations.
Dragonflies can fly as well backward as they can forward.
Much like helicopters, dragonflies can fly in all directions as well as hover and pivot mid-air.
Dragonflies are very accurate hunters, catching 90% of their targeted prey. In comparison, lions only catch about 25% of theirs.
If you love dragonflies and want to attract more of them around your patio or deck — without a pond — implementing some water features and the right plants and rocks can help you out.
More ideas for container garden inspiration:
Now that you have some good ideas for how to attract dragonflies to your container garden, including what they eat and what habitat is best, are you going to give it a try? Let us know how it goes in the comments!