How to grow carrots in containers
Crunchy, nutritious and delicious, it's no wonder why carrots are some of the most popular vegetables to grow in home gardens. If you have questions about how to grow carrots in containers, you're in the right place!
If you're working with a small backyard, or just a patio, you may not think you can grow any carrots at all. The good news is that carrots are an easy going vegetable that can thrive in containers.
Carrots (Daucus carota) are a root vegetable, the domesticated version of a wild carrot native to Europe and Southwest Asia. Carrots are biennial but usually grown as annuals. They're generally orange but can be found in a variety of colors from white to purple.
When you think of a carrot, you most likely imagine the colorful taproot — but the stems and leaves are also edible and will produce seed if allowed to flower.
There are good reasons why the taproot is our favorite! It's tasty, versatile, can be stored for long periods of time, and contains a high amount of nutrients, especially alpha- and beta-carotene and vitamins A, K, and B6.
This guide will teach you how to successfully grow carrots in pots and how to use and preserve your root veggies after you've harvested them.
This post may contain affiliate links. If you buy something through these links, we may earn a small commission at no cost to you.
How to grow carrots in pots
Perfect for beginning gardeners, carrots aren't challenging plants to grow, but they do have specific care requirements.
Like most other vegetables, carrots require a full sun location that receives at least 6 to 8 hours of bright light daily.
Soil should be rich and well-draining, and mixing in a bit of compost before you plant your carrots can encourage their growth.
After sowing, carrots have moderate watering needs and should receive about 1" of water per week.
Do carrots grow well in containers?
Carrots are not very large plants, so they can easily be grown in containers. However, because they have long tap roots, containers should be at least 12" deep. You may be able to grow carrots in shallower pots too, but if you want to do this you should look for shorter carrot varieties, like 'Parisian' and 'Scarlet Nantes.'
How to grow carrots from seed
If you're new to growing carrots, you may have a lot of questions. Do carrots grow better from seed or can you grow them from transplants? And exactly how many carrots grow from one seed?
Carrots are cool weather vegetables that grow best in spring and autumn, although you can succession plant them every 4 weeks through mid-summer for a continuous harvest. Just keep in mind that carrots grown during the heat of summer may not fill out as well and may develop a more bitter flavor.
For optimal taste and growth, directly sow your carrot seeds outdoors in your containers in early spring, about 2 to 3 weeks before your last frost date.
Seeds should be sown about 1/4" deep and spaced about 2 to 3" apart. If you're practicing square foot gardening in your planters, you can sow 16 to 18 carrot seeds per square foot.
How many carrots grow from one seed?
Only one carrot will grow per seed, so be sure to plant enough seeds for your purposes! Considering seed germination rates are never 100%, you may want to plant 2 to 3 carrot seeds per planting hole and then thin out your carrots after they produce true leaves.
Best potting soil for carrots
Be sure to always use potting soil in containers, never garden soil. Garden soil can contain pests and doesn't have the right composition to retain moisture like you need in a container. To learn more, check out my Potting Soil 101 post!
There are many varieties out there, and I've tried a bunch of them! I've had the best results with the old standby Miracle-Gro, so that's what I personally use.
Best varieties of carrots for containers
Carnival blend carrots — gorgeous variety of colors, high in nutrients, perfect for harvesting gourmet baby carrots
Little Finger Carrots — 3″ true baby carrots (the kind you buy in the store are actually cut from full-size carrots!), excellent for pickling or canning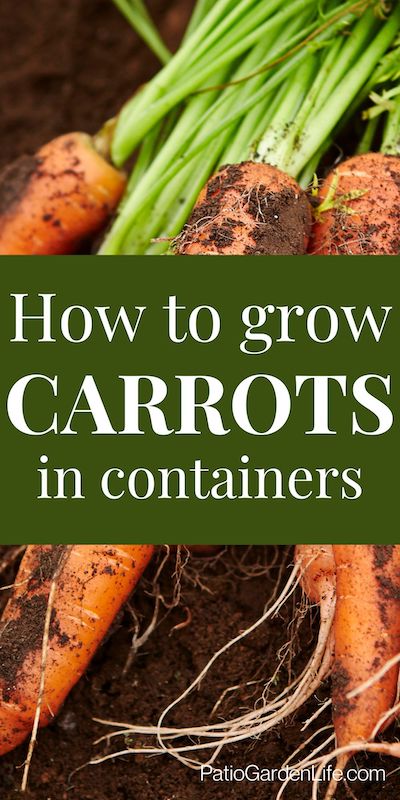 How to grow carrots from seedlings
Carrots grow best when directly sown outdoors, and transplanting is generally not recommended because taproots can be sensitive to disruption. Luckily, since carrots are cold hardy and fast growing, there's rarely a need to start these veggies indoors.
If you do need to transplant carrot seedlings, be sure you replant the roots so that they're as straight as possible. Twisted seedling roots will produce twisted and deformed carrots.
How to grow carrots from carrot tops
Once you cut away a carrot's tap root, it's impossible to regrow a full carrot from just the top. However, you can regrow more carrot greens and produce seeds just from the scraps of your carrots.
To regrow carrot greens:
Cut off the top of your carrot, leaving about 1" of carrot root attached to the top.
Trim away the majority of the greens so you only have about 1" of greens remaining.
Place the cut carrot top in a shallow dish with a bit of water until delicate roots begin to form.
Then carefully transplant the carrot top to a container with moist, rich soil.
When carrot tops are kept in this manner, they will continue to grow fresh greens and eventually flower and produce seeds. Carrot tops can be eaten fresh or cooked, and they make a nice substitute for parsley in any dish.
Best containers for growing carrots
Due to their small size, carrots are particularly great for container gardening. But it's important to choose the right pot if you want to get a large harvest of well-formed carrots.
Any pot you choose should be well-draining. Fabric grow bags are some of the best choices since they maintain moisture balance and are less likely to cause root rot. Terracotta pots are also appropriate for growing carrots, but make sure they have drainage holes.
To support the growth of your carrots, pots should be at least 12" deep. Since carrots are compact plants, the diameter of your container doesn't matter as much, but a container that is at least 1' square is recommended.
Grow bags are my favorites and a staple in my container garden, for both veggies and herbs. They're versatile, reusable, easy to move, and do an awesome job maintaining just the right moisture level.
Growing carrots in containers outdoors
After planting your carrots, you should begin to see sprouts within 2 to 3 weeks.
Outdoor temperatures will influence how quickly your carrots germinate. Temperatures between 55 and 65°F are best for germination, but carrots can sprout as long as temperatures are above 40 and below 85°F.
Once your carrot seeds are in the soil, provide them with regular water and fertilizer until you're ready to harvest.
How often to water carrots
Consistently watered carrots will grow larger and have a better flavor. Generally speaking, carrots should receive about 1" of water per week.
How often you need to water your carrots will depend upon your container and the ambient temperature. Containers dry out quicker than garden beds, so you will need to water your carrots frequently, about every day or two, to get 1" per week.
Soil should be kept moist, but not soggy.
Fertilizer for carrots in pots
Amending your soil prior to planting with a quality organic compost or slow-release fertilizer pellets (Jobe's Organics is my favorite brand) will give your carrots lots of nutrients to support their growth.
During the growing season, carrots should be fertilized approximately every 3 to 4 weeks with compost tea or an organic, liquid fertilizer. Fox Farm Grow Big is a highly rated liquid fertilizer made from earthworm castings, kelp, and micronutrients.
Be sure to choose a balanced or low-nitrogen fertilizer, as too much nitrogen will result in lush, leafy growth and poor root development. To learn more about soil nutrients, check out my Fertilizer 101 post!
Common pests for carrots
Carrots' sweet flavor and high nutrient content make them attractive treats to several garden pests. Some of the most common problems you may encounter when growing carrots include:
Wireworms are the larval stage of click beetles, and they look a lot like mealworms. These voracious eaters love munching on root vegetables, including carrots, and can riddle your veggies with holes. Container-grown carrots are much less likely to be attacked by wireworms, especially if you use a quality potting soil from a reliable source.
You generally won't know your carrots have been targeted by carrot flies until you harvest your roots. Affected plants may have holes or tunnels in their flesh and damaged areas can become mushy or rust colored. Companion planting with dill, marigolds or onions and rotating your crops can keep these pests from becoming an issue.
Like wireworms, voles are less likely to cause problems in container vegetables. However, these hungry little rodents can chew through container bottoms and decimate root vegetables. They can gobble up entire carrots, leaving just the leaves behind. To keep voles away, choose sturdy containers or place your fabric grow bags on top of hardware cloth to prevent burrowing.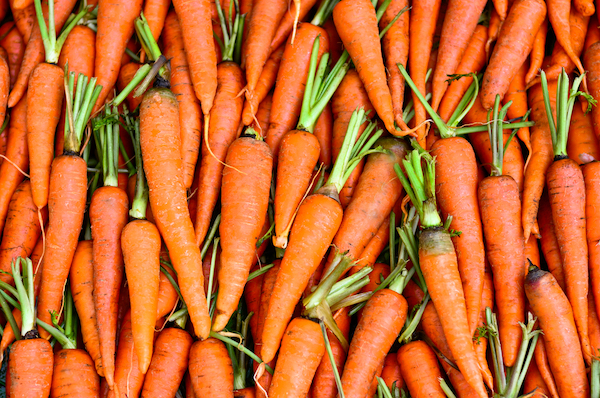 Best companion plants for carrots
Choosing the right companion plants can prevent pests and benefit your carrots in other ways. While there are other excellent plants to try, here are a few of the best companions for carrots:
Dry soil can develop a crust on it, which can make it difficult for young carrots to germinate. Interplanting your carrots with radishes prevents soil crusting and can help your carrots grow.
Garlic, onions, chives and other members of the allium family have strong scents that keep many garden pests away. Try sowing your carrots with alliums to prevent rust flies and other issues.
Nasturtium are attractive plants that are excellent for repelling a wide variety of pests. If you're keeping a container garden, look for mounding (rather than vining) nasturtium, as they will stay smaller. Read about nasturtium and other edible flowers in my post 21 best edible flowers for container gardens.
Carrot growing stages
Carrots are most often grown from seed, which can be planted in containers in early spring or in mid-summer for an autumn harvest.
Depending on the carrot variety you're growing and the temperature, carrots will germinate in about 2 to 3 weeks and will be ready to harvest about 55 to 80 days after planting.

If carrots are allowed to go to flower, they will also eventually produce seeds, which can be saved for future gardening.
How to harvest carrots
Carrots will be ready to harvest about 2 months after planting.
It can be difficult to know when they're ready to dig, so feel around at the base of your plants. Smaller carrots tend to have better flavor than larger carrots, so you might want to pull up your carrots when they are about the size of your thumb or at least ½" diameter.
Since carrots often don't mature all at once, you may need to pick your carrots in stages. Spring-planted carrots should be harvested before temperatures get too hot. Fall-planted carrots, on the other hand, will have a better flavor if you pull them up after a light frost.
Young carrots can usually be easily lifted from the soil by their leaves, but larger carrots may need to be dug out with a hand trowel.
For even faster harvesting, you can also simply dump out your growing containers onto a tarp and pick out your carrots.
How to store carrots
Once you've picked your carrots, clip away all but ½" of their greens and scrub the roots well to remove dirt.
Then pack your dried carrots in plastic bags and store them in the fridge, so they don't get limp. When packaged this way, carrots will stay fresh for about 3 to 4 weeks.

For longer storage, carrots can also be dehydrated or canned.
Carrots also freeze well, and they don't need to be blanched before freezing. If you happen to have a cool root cellar, carrots can be stored in damp sand for up to 5 months.
Carrot recipes
More container gardening tips and veggie ideas
Growing carrots in pots is a great way to have fresh veggies, even in small spaces. Now that you know how to grow carrots in containers, let us know how it goes in the comments!